by Matthew Taylor
For far too long, emotional intelligence (EI), popularized by Daniel Goleman in 1995, has been considered a "nice to have" rather than a "need to have" set of competencies. That belief is changing. While it's widely accepted that EI is a distinguishing factor for leaders, recent research lists it as one of the top ten skills for all employees. Organizations that choose to invest in cultivating these human capabilities will have greater impact on their employees, teams, and communities.
The great news is that emotional intelligence can be taught. Unfortunately, many organizations fall short in prioritizing and cultivating EI development because they don't know how to teach it, or because they assume their people have hit a developmental "brick wall". Through my work coaching leaders, I have witnessed first-hand the transformation a leader can make once he/she uncovers the "under the surface" issues getting in the way. The transformation begins with building new self-awareness and solidifies over time through intentional shifts in mindsets and behaviors. These leaders are literally re-wiring their brains by building new neural pathways (the miracle of neuroplasticity).
To facilitate this transformative growth process I developed the 5 Square Framework, a values-based tool and methodology now widely used to support the development of emotional intelligence. The model is anchored in core values—why we care and what drives us—because I believe that our values are the source of our power as leaders and human beings. Our job as coaches is not to teach others how to lead, but to surface the power that they already have in their core. This is why the 5 Square process is co-constructed by both the coach and the leader or "coachee."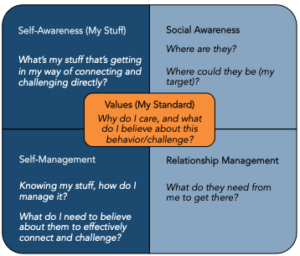 The left half of the 5 Square focuses on self—what we need to know about ourselves and how we show up before we ever engage with others. This helps us explore and manage below-the-surface internal obstacles to development that we are likely unaware of, and that are connected to deeply-ingrained self-limiting mindsets and behaviors. The top right quadrant, social awareness, focuses on what we need to know about others—gathering data—before we take action. Finally, the lower right quadrant, relationship management guides us to choose the most effective engagement strategy in the moment, based on our social data, to reach our goals.
The 5 Square provides leaders with a tangible road map to overcome the brick walls of their personal development and a new lens through which to understand and engage others. It provides coaches with an accessible framework for supporting this transformative growth.
With the rise of Artificial Intelligence (AI) many skills can be automated, but EI skills like empathy, motivation, and social understanding are inherently human.
To learn more about how to use the 5 Square Framework, please send us a message.